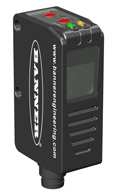 Q28 by Banner Engineering
Related Technologies:
The Q26 sensor is an addition to a series of Banner clear object sensors, and was developed to solve difficult
clear object detection applications. Using a polarized retro coaxial design (also known as autocollimation), the
Q26 cannot be tricked by mirror-like surfaces, operates reliably over 5 to 800mm, and has precise leading edge
detection
About Banner Engineering
Banner Engineering designs, manufactures and distributes photo eyes, sensors and associated products for industrial and process automation — worldwide.

* Photo eyes, fiber optic sensors, ultrasonic sensors
* Wireless sensors, wireless monitoring control
* Safety controllers, safety light screens, safety switches
* Machine vision, vision sensors, vision lighting
* Indicator lights

Banner releases hundreds of innovative, new products every year and offers customized solutions to challenging applications — quickly and cost effectively.

Banner has more than 3,000 factory and field representatives around the world, as well as the largest force of application engineers in the industry. Millions of customers count on our highly skilled professionals to solve thousands of the most challenging applications every year.