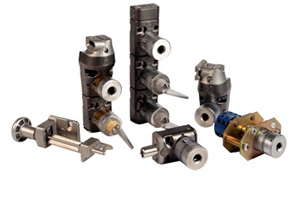 Fortress Mguard by Fortress Interlocks
Related Technologies:
mGard is the premier family of modular robust trapped key interlocks for heavy duty applications. Trapped key interlocking is a tried and tested method of mechanically safeguarding dangerous machines and hazardous processes, and is suitable for use up to SIL 3 (EN/IEC 62061), Category 4 and PLe (EN/ISO 13849-1). It is called "Trapped Key" as it works by releasing and trapping keys in a predetermined sequence. After the control or power has been isolated, a key is released that can be used to grant access to individual or multiple doors.
About Fortress Interlocks

A market leader, Fortress Interlocks design and manufacture safety access & control systems. Fortress offer an unrivalled portfolio suitable for applications across a wide industrial base from power generation and distribution, steel, automotive, recycling, building materials, through safeguarding robots and palletisers. With in excess of 40 years experience in the safety market, Fortress are renown for their innovative design, robust engineering and reliability.